How you can join our UK-wide sketching competition…

Our national search to find the Sketching Stars of the future continues ― and this year, we're asking pupils to

Design their Dream School

...
We've teamed up with architect, Ffion Lanchbury, whose childhood passion for sketching, drawing and designing has translated into a professional career as a Chartered Architect. Read more about Ffion's career here.
As part of Sketching Stars 2018, Ffion is inviting primary school pupils from across the UK to test their creativity and drawing skills by designing their very own school.
BUT this year, the competition has a special twist...
We've also partnered with LEGO® inspired pop artist, Andy Morris from Little Big Art, who'll not only transform the winning pupils' Dream School design into a real-life LEGO® model but he'll also host a classroom workshop for each winner and their class ― showing how he uses LEGO® bricks to inspire his work.
Teachers can access the KS1 & KS2 competition sheets when they sign up as a Teachers' Club member, along with a number of additional bonus activities to complete with their students.
Not a member yet? Register here.
What can I win?
We'll be choosing two winners, one each from KS1 and KS2, who'll win:
£270 worth of stationery for their school
A STAEDTLER goody bag and certificate
A LEGO® architecture workshop delivered by Andy Morris of Little Big Art
A model based on the winning pupil's Dream School, made from LEGO® bricks.
We'll also choose three runner-up entries who will receive:
£270 worth of stationery for their school
A STAEDTLER goody bag and certificate.
Plus — every teacher who enters their class in the competition will receive a FREE stationery pack!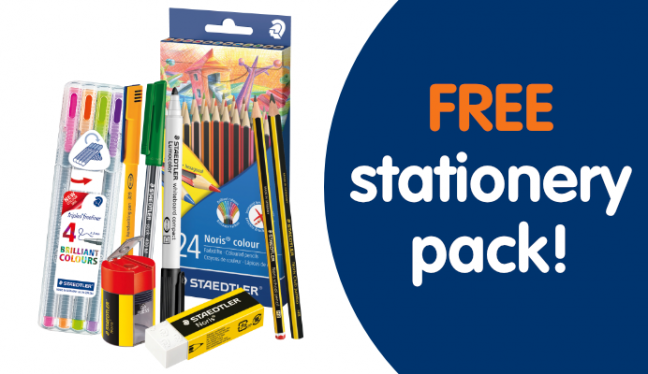 How do I take part?
First, you'll need to make sure you're a Teachers' Club member. It's FREE to sign up, and you can do it here.
1. Download your Sketching Stars 2018 KS1 and KS2 competition entry sheet PDFs. You can find these in the 'Resources' page of our Members' Area. Note: We recommend printing the sheets on A3 paper so your pupils have more room to draw and colour their designs. However, we will accept entries on A3 and A4 paper.
2. Print the sheet and give it to your pupils to complete as part of a Sketching Stars lesson.
3. Collect their worksheets – make sure they've added their names!
4. Send us the entries before midnight on Sunday 09 December 2018. Don't forget to include your teacher's slip (entries will be invalid without one!).
Where do I send my pupils' entries?
We will accept pupils' entries either sent by post or scanned in and sent by email. 
1/. Post your entries:
Print off the Teachers' entry form in the 'Resources' page of our Members' Area. Cut out and fill in the teacher's slip, and enclose it with the entries. Post the entries to:
Sketching Stars – STAEDTLER UK Ltd
31 Old Field Rd
Bocam Park
Bridgend
CF35 5LJ
BE SURE TO INCLUDE THE TEACHER'S SLIP OR YOUR ENTRY WILL BE INVALID!
2/. Email your entries:
Scan the entries and email in PDF, JPEG or PNG format to the below address:
marketing.uk@staedtler.com
Please note: Your pupils' entries will only be valid if you include your name, school name, school address and the email address registered to your Teachers' Club UK account in the covering email!
 -----------------------------------------------------------------------------------------------------------------------------------------------------
Read our full Terms & Conditions for the competition here.
Good luck!
STAEDTLER Teachers' Club 
DISCLAIMER: LEGO®is a trademark of the LEGO Group of companies which does not sponsor, authorise or endorse this campaign.